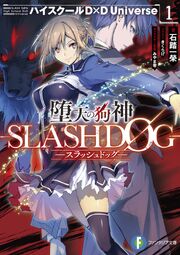 The first Volume of SLASHDØG compiled from the web novel.
Tobio Ikuse missed out on his school trip due to sudden fever. Unbeknown to him, the luxury liner disappears along with the teachers and students. Months later, Tobio encounters one of the missing student and was attacked by a lizard monster till he was rescued by Natsume Minagawa.
Prologue
Chapter 1 - Return/Attack
Chapter 2 - Black Dog/Birth
Chapter 3 - Ally/Fourth Person
Chapter 4 - Silver Hair/Boy
Chapter 5 - Reunion/Utsusemi
Chapter 6 - Ice Princess/Four Fiends
Chapter 7 - God Cutting Longinus Materializes/Canis Lykaon
Epilogue
End Chapter - Five Great Families/Himejima
Characters
Edit
Illustrations
Edit
References
Edit
Ad blocker interference detected!
Wikia is a free-to-use site that makes money from advertising. We have a modified experience for viewers using ad blockers

Wikia is not accessible if you've made further modifications. Remove the custom ad blocker rule(s) and the page will load as expected.